ABC Amber Outlook Converter 6.16
Useful tool that converts emails from MS Outlook to any document format.

ProcessText Group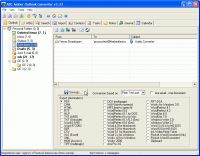 ABC Amber Outlook Converter is intended to help you keep your important emails, newsletters, other information organized in one file. It is a very useful tool that converts your messages from Microsoft Outlook to any document format (PDF, HTML, CHM, RTF, HLP, TXT, DOC, etc.) easily and quickly. It generates the contents with bookmarks (in RTF, DOC, PDF and HTML), keeps hyperlinks.All you have to do is select required messages, choose document format to convert and click Save As button.
Also ABC Amber Outlook Converter can be used to migrate all existing messages from a current e-mail client (whatever it may be) to MS Outlook. The tool is especially helpful if an entire office or company switching their default e-mail client to MS Outlook. With ABC Amber Outlook Converter you won't ever waste your time to organize your e-mails!
Partial Features List
reads MS Outlook folders, messages, contacts, tasks, notes, journal items and calendar events
exports selected messages (contacts, etc.) to a single file of any document format: PDF format (Adobe Acrobat doesn't need to be installed), RTF format (also doesn't require MS Word to be installed), hypertext HTML format, text format, DOC format (MS Word), popular CHM format, old good HLP format, DBF, MDB (MS Access), CSV, XML, XLS (MS Excel), and many more
conversion is based on plain text part or HTML part of the message
supports multiple encoding tables
easy to use and easy to set up. You can adjust fonts, colors, styles, effects of output file
imports messages from MS Outlook Express, Eudora, Pegasus, The Bat!, Becky, Pocomail/Barca, Agent, IncrediMail, T-online, Mozilla/Thunderbird, Opera, UNIX mailbox, Lotus Notes, EarthLink MailBox, imports messages from the folders with EML/NWS files directly into MS Outlook (can convert them into MSG as well)
supports column sorting (From, To, Subject and Date columns). It is important to sort messages if you wish to get a well-readable document
supports advanced PDF export options (document information, 40/128 bits PDF encryption, PDF security options, page size, page orientation and page margins, resolution mode, compression mode, viewer options)
generates contents with bookmarks (in RTF, DOC, PDF and HTML), maintains hyperlinks
supports multiple CHM and HLP export options
displays selected message, saves it to disk and prints it to printer
command line support, skin support
saves the message attachments to a disk
exports messages to TIFF and DCX (multipage)
exports messages to WAV and MP3 (requires MS Text-to-speech engine to be installed), speaks emails
imports msg files (MS Outlook does not need to be installed), extracts text and attachments
reads PST files (since 4.01)
really useful feature - HTML Forum Maker (since 4.14)
converts emails to HJT (TreePad) and KNT (KeyNote) (since 5.08)
NEW: Advanced CHM Maker (since 6.05)
bonus: converts emails to LIT (MS Reader), RB (Rocket eBook), FB2 (FictionBook) and PDB (Palm) (since 6.09)
and more
Compabilities:
Windows 95
Windows 98
Windows ME
Windows XP
Windows NT 4.x
Windows 2000
Windows 2003
Outlook forum