ArchiveAssist 1.00
Edit Outlook Modified Dates when archiving fails due to Modified Date conflicts
Cardiff Consultants, Limited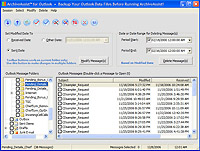 ArchiveAssist enables users of Microsoft Outlook, for the first time, to set the Modified Date of email messages. Outlook users have not, until now, had the ability to set Modified Dates at will; this development enables successful archiving operations in cases where Outlook fails to archive in accordance with the user's intentions because of Modified Date conflicts.
Outlook archives messages based not on their Received Date or Sent Date but on what Outlook calls their 'Modified Date'. The Modified Date of a message changes when that message is subjected to such operations as Searching, Editing, Copying, Moving, Saving, Importing, Forwarding, or Replying. As a result, a user may try to archive all messages which are, for example, 12 months old or older only to find that Outlook won't perform as requested because the Modified Dates of those messages have been moved forward to a more recent date. The user is left with no way to archive as needed because Outlook doesn't permit the user to edit the Modified Date.
When Outlook's .pst data files, which store all user information and message data, become too large Outlook can behave erratically, often slowing down considerably and freezing, posing risks to user data and diminishing efficiency. ArchiveAssist lets the user easily select individual messages, groups of messages within a folder or spanning any number of folders, or entire folders of messages, and set new Modified Dates for the selected messages so that archive operations can be tailored to the user's needs. Successful archiving is the key to preventing Outlook's .pst files from becoming too large; ArchiveAssist is the key to successful archiving when Outlook's Modified Dates prevent the user from controlling the archiving process.
Designed for Outlook 97, 98, 2000, 2002, 2003, and 2007; runs on all Windows platforms from Win95 on, including Vista.
Compabilities:
Win95
Win98
WinME
WinNT 4.x
Windows2000
WinXP
Windows Vista Starter
Windows Vist
Outlook forum