ClickSolve 1.1
Web Multi-Search the Internet from Microsoft Office instantly in Word, Excel, PowerPoint and Outlook

Bid Solve, Inc.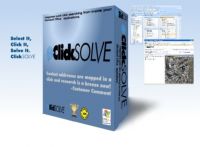 ClickSolve
This exciting add-in/add-on package for Office has been designed to bring the power of internet searching directly into your word processing, email and spreadsheet programs by connecting you to the internet instantly from Microsoft Word, Excel, PowerPoint and Outlook. With ClickSOLVE there is no longer a need to open browsers (such as Internet Explorer, Firefox, Google Chrome or Opera), retype information or remember addresses for mapping and directions. SearchIt! is a one-click add-in for Microsoft Excel, Word, PowerPoint or Outlook searches with a word, phrase or item highlighted and immediately open a topic search in your default browser. MapIt! is a one-click tool to locate any address you highlight in any Microsoft Excel, Word, PowerPoint or Outlook document. A map is displayed in a new window (or multiple web maps based on preference).
At BidSOLVE we treat you the way we want to be treated so...we don't do,
No Cookies
No Pop-Up Advertising
No Stalking your Information
No Spam
No Spyware/Malware
No Selling your Information
No document interference
If you?re not searching We're not running!
-We care about your experience and your privacy. Let us know how we can serve you better, we want to know.
Compabilities:
Outlook forum