E-mail Follow-Up 1.10
Monitor sent messages left unanswered.

MAPILab Ltd.
E-mail Follow-Up is a Microsoft Outlook add-in that allows (and reminds you!) to send follow-up e-mail messages if a reply has not been received within a specified time-frame. E-mail Follow-Up will watch for messages and show an alert when a reply has not been sent. This Outlook add-in also allows you to send a follow up message using a predefined template to remind the recipient that the reply hasn't been sent.
"I wrote to them and they didn't answer!" - this is a typical ending for many negotiations though the result could have been different if the message had been noted in time and resent or maybe even followed up with a telephone call.
Now E-mail Follow-Up will follow up the messages left without a reply instead of you, and not only remind you about such messages but offer you to send a Follow-Up template message to remind the user that a reply hasn't been received yet.
This Outlook add-in adds two buttons: "Follow-Up" and "Custom" into the toolbar of Message Editor (click the button "New e-mail message"). Using these two buttons to send a message the message can be considered to be under control. In the first case you use the default time waiting settings for the reply and the criteria according to which the program should identify the incoming message as a reply. In the second case you can adjust these settings for each message sent on an individual basis.
Technical requirements and compatibility of the E-mail Follow-Up:
Microsoft Outlook 2013, 2010, 2007, 2003, 2002/XP;
Microsoft Office 365 with desktop Outlook version;
Microsoft Windows 8, 7, Vista, 2003, XP.
Supported languages:
English;
Russian;
German.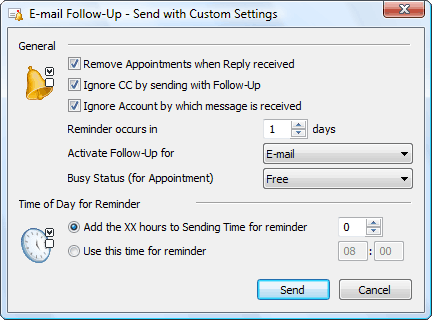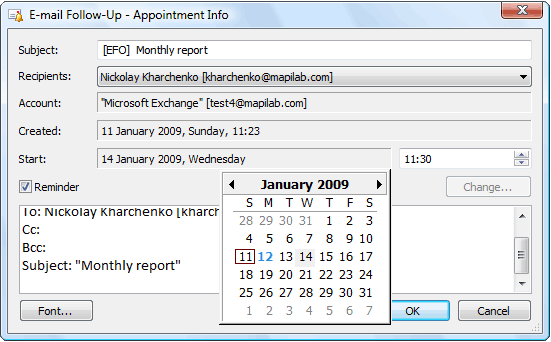 Outlook forum