Mail Merge Toolkit 2.7
Microsoft Office add-in to improve mail merging in Outlook, Word and Publisher.

MAPILab Ltd.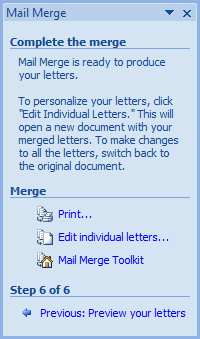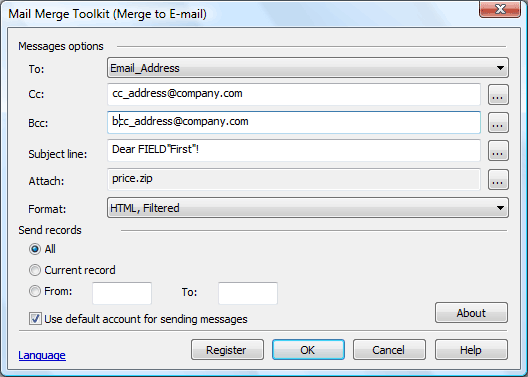 Mail Merge Toolkit is a powerful Microsoft Office add-in helping to extend the mail merging capabilities in Microsoft Outlook, Microsoft Word and Microsoft Publisher. It allows you to do the following:
Insert data fields into the message subject, so that not only the contents of a message but also its subject is personalized.
Attach one or more files to messages.
To send HTML or RTF messages from Microsoft Word and Microsoft Outlook so that the security system doesn't interfere and Internet links remain working.
Send messages to multiple recipients in HTML, RTF and GIF formats straight from Microsoft Publisher.
When sending GIF messages from Microsoft Publisher, HTML-links can be assigned to image areas (image map technology). By using messages in GIF, you can be sure that your recipient will be able to read it with any email client.
The Mail Merge Toolkit dialogue is in many respects very much like the standard Microsoft Office box "Merge to Electronic Mail" (see screenshot). In that box, like in the standard one, you can choose the data field containing the recipient addresses, set the message subject (of note, in Mail Merge Toolkit you can use automatic data field insertion like in a document text), set the format, and choose files to be attached to each message if necessary.
Document merging with this Microsoft Office add-in is virtually the same as standard merging, but it gives you more opportunities and is more reliable in operation. It doesn't cause false responses by the security system, sending interruptions are allowed and the number of already sent messages and messages to be sent is shown in the Mail Merge Toolkit information window.
With Mail Merge Toolkit you can really use the power of Microsoft Office for professional mass mailing!
Technical requirements and compatibility of Mail Merge Toolkit:
Microsoft Office 2013, 2010, 2007, 2003, 2002/XP;
Microsoft Office 365 with desktop Outlook, Word or Publisher versions;
Microsoft Windows 8, 7, Vista, 2003, XP.
Supported languages:
English;
German;
Russian.
Outlook forum