MAPILab Groupware Server 1.5.3
Share any Outlook folders with your team without Exchange Server.

MAPILab Ltd.
MAPILab Groupware Server is intended to share any Microsoft Outlook folders (and any Outlook items) with your team without using Microsoft Exchange Server.
The product provides real-time access to shared storage and folders stored on the server, as well as means for managing access rights. The server can be controlled from any computer with the help of a special program. Administrator status can be given to one or several users – as any user can cope with the task of administrating the server.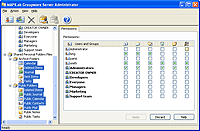 Administrative module of MAPILab Groupware Server - permissions
From a cliental point of view, folders on MAPILab Groupware Server look and behave exactly the same as folders on Microsoft Exchange Server: the moment someone creates a new note in the folder, you will see it at your place.
In the same way that Microsoft Outlook works with Microsoft Exchange Server, Microsoft Outlook works with MAPILab Groupware Server via the MAPI protocol. It allows clients to work together in real time, but imposes certain requirements concerning the reliability, performance and bandwidth of communication facilities.
Information about the requirements and compatibility of the product:
Microsoft Outlook 2000, 2002/XP, 2003, 2007
any version of Microsoft Windows starting from Microsoft Windows 2000; no server licenses for Microsoft Windows are required. Please note, version for Windows NT 4.0 is here
the products do not require Microsoft Exchange Server, Lotus Domino or any other server products
the products can be deployed on a network where Microsoft Exchange Server is already deployed
the products do not require the skills of a system administrator for their deployment and use

Connecting to MAPILab Groupware Server from Microsoft Outlook
Program Features:
With MAPILab Groupware Server installed, you will be easily able to organize:
Public mail folders;
Public contact folders;
Public calendars;
Public task folders;
Public notes folders;
Public journals.
Outlook forum