MessageTree 1.00
Create archives of email messages outside Outlook, maintaining folder structure
Cardiff Consultants, Limited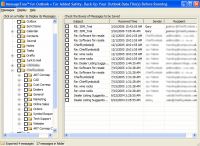 MessageTree is an ideal solution for creating easy to reference, transportable, shareable, and flexible .txt, .html, and .msg format archives of your Outlook messages outside of Outlook, viewable with any text editor or browser. Outlook's .pst and .ost mailbox files hold your Outlook data; as they grow Outlook can slow down and display aberrant behavior, placing your data at risk.
MessageTree frees you from the danger of corruption to your data files forever!MessageTree's name is all about what it does: it creates archives of your email messages, transformed into individual text files, organized in the same folder tree structure under which you've organized your messages inside Outlook. Best of all, you select which messages to include, so you can create multiple message trees for different purposes; you can include all your messages or only a subset of all messages; you can create message trees by subject or by any other parameter. You can easily distribute message trees when you need to share messages, and you can easily post them online.
MessageTree gives you options for amazing flexibility: - save the messages in .txt or .msg format for use with any text editor, or .html format for viewing with any internet browser- include complete, simplified, or no header information with each message- keep the messages in Outlook after saving or automatically delete them- print all saved messagesMessage naming is one of the most powerful features of MessageTree, permitting you to create names for the saved messages using the following components, combined in any order you choose: From (Name); From (Email Address); Subject Entry ID; To (Name); To (Email Address); Received Date; Sent Date; and Custom User defined text .Further, you can define text which should be deleted from the name of messages, allowing you to eliminate repetitive text which doesn't help distinguish one message from another.
Compabilities:
Winnows 95
Windows 98
Windows ME
Windows NT 4.x
Windows 2000
Windows XP
Windows Vista
Outlook forum