NVN (for Outlook) 2.07
Your Outlook Appointments and Tasks on Desktop

Somebytes
Users of Microsoft Outlook will welcome this utility. It displays appointments and tasks on your desktop so you don't loose track. The desktop image remains fully visible. If you feel that your Outlook-Calendar is too many clicks away or you are loosing your appointments out of sight, then this fully customizable
Desktop Calendar is the solution. It runs in the system tray andcan display your calendar in weekly, 5-day or monthly view. The calendar works with Microsoft Agent reading pre-defined sayings, verses or the time to you. Any appointment can be edited straight on your desktop.
A brief list of tasks that Desktop Calendar (for Outlook) can help you with: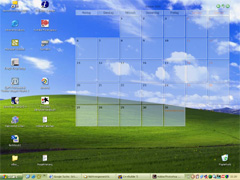 Display appointments from Outlook on your desktop.
Any task on Outlook with end date will be integrated into the calendar.
Direct access to individual appointments with a simple mouse click.
You can browse your e-mails while the application reads you the subject lines or informs you about new messages.
Use different Microsoft Agents from your system.
Display calendar in weekly, 5-day or monthly view.
Option to customize your calendar with your own designs, fonts and colors.
Define time for the Agent to read chosen verses in the administration.
On birthdays it calculates the age of people from your Outlook folder.
Compabilities:
Windows 95
Windows 98
Windows ME
Windows NT 4.x
Windows 2000
Windows XP
Windows 2003
Windows Vista
Outlook forum