OLContactSync 1.31
Synchronize your Outlook 2000-2003 Contacts over E-Mail.

Somebytes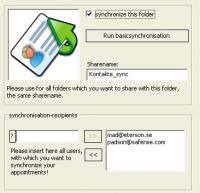 OLContactSync allows you to easily synchronize your Outlook contacts with any other Outlook users contacts for free.
The synchronization works in the background through your e-mail ? allowing synchronizing appointments easily over the net without the need to be online at the same time as the synchronization partner. For your convenience the synchronization excludes contacts marked as private. The installation is straight forward. To install and use this application you only need your Outlook to be configured with an e-mail account (POP3). After completing the install you will find a new property tab under each contact folder, where you can administrate the synchronization features. To configure the Add-In you only enter an access key and the e-mail address of your synchronization partner.OLContactSync is very convenient to:
Synchronize your Outlook contacts from home with your office.
Let your PA add and amend contacts while on the other side of the world.
Synchronize contact addresses with friends and family.
Synchronize your contact databases across your team.
Synchronize Outlook contacts on your laptop with your desktop.
Check your contact addresses base against that of colleagues on the road.
Check club/association address data with that of other members.
Remote workers.
Outlook net folder alternative (net folders from OL2000).
Compabilities:
Outlook 2000
Outlook 2002 (XP)
Outlook 2003
Outlook 2007
Outlook forum