Public SyncTool 1.1
Notebook synchronisation for Microsoft Outlook.
Public Shareware
What offers the Public SyncTool?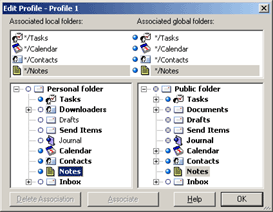 Escalation inquiry: You will be asked, which data record you would like to use, if both data records (PC and Notebook) were changed.
No inadvertent deletion: You get an overview which data records were deleted, before the synchronisation start.
Visual control: You receive a graphic opinion, which file is synchronised and which profile is used.
Public ShareFolder: You work with Public ShareFolder and you can synchronise your personal file with the "public folders".
If you are using additionally to your desktop PC also a notebook, you would like to keep the Microsoft Outlook data of both systems synchronous surely. Doubled or even repeated data retention (redundancies) should be avoided in a network, if possible, or do you copy each document that lies on the server, additionally again on each PC? Notebooks or Handheld PC (Palm, PDA, Blackberry etc..) make here an exception.
To synchronise Microsoft Outlook between a PC and a notebook you have the following variants:
Install Microsoft Exchange Server
Copy regularly the Personal Folders
Install synchronisation software: Public SyncTool (PST)
To copy regularly the "Personal Folders" is exactly said no synchronisation. Synchronisation is called literal: Manufacturing the parallel feed of procedures or machines. Transfer in our case: Providing two data records and the exchange of new information equal by older entries, whereby only the part of the data record is changed, which is unequal. A temporally current entry is not compellingly the correct one thereby.
Outlook forum