SharePoint Attachments for Outlook 2
Let Outlook publish attachments to a website and add link in the e-mail instead.

kalmstrom.com Outlook Solutions
Having trouble with attachments? They tend to get blocked by spam filters, mailbox sizes and other issues. Outlook is good for a lot of things, but not for file transfers. A much better solution is of course to publish the files to a website instead, and just sending a link in your e-mail.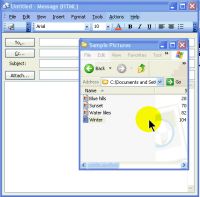 SharePoint Attachments does exactly that. The application publishes your files directly to a SharePoint library or other website, instead of sending them as attachements, and leaves a link in the e-mail instead.
SharePoint Attachments works with any Frontpage or WebDAV site but of course best with SharePoint document libraries.
Free 15 day trial. Single User license 49 USD. Organizational license 395 USD including one year of support. Video demonstration + downloadable Word-manual and slideshow online.
Works with WinXP/2000/2003/Vista and Office 2000 and above.
Outlook forum